In today's media-centric world, the ability to capture consumer attention through the use of pictures and meaningful imagery is vital. Whether it is a website, social media site, corporate event, or television advertisement, design exists everywhere, and it has a huge impact on how people think, feel, and react. So how do the people "behind the pictures" make sure the design of their deliverables is compatible with the content they aim to portray?
It is the job of a graphic designer to visually communicate ideas. It begins with taking an idea, adding a few words of copy, and turning them into a single visual that inspires, informs, and captivates the target audience. A seasoned designer will ask the right questions to take a simple idea and turn it into a work of art that is both appealing and inspiring—and reflects the brand. Think of a chef, taking raw ingredients, doing some chopping, some mixing, a little cooking, and voilà—a beautiful and satisfyingly delicious meal. Whatever the elements are, good, effective design always stems from an overall plan of consistent branding.
Branding standards and why you need them
Let's take a step back to better understand the importance of brand consistency and branding standards. The number one step in strategic brand management is to determine the brand positioning for an organization. What do they want to say, to represent, to achieve? No small task… together, the designer and marketer must research the positioning of each competitive brand in the industry and proceed to identify differentiating factors from their own. Using these differentiating factors, the brand can find a unique position in the mind of the customers. This unique position is where a company finds its niche and creates the basis for its brand standards. These standards must be upheld for the sake of consistency in the eyes of the consumer, as well as to ensure quality control.
Making design decisions
Once brand standards have been set and an idea is ready to be interpreted, a graphic designer can determine what media format will best portray the desired content. Visuals include: photos, videos, infographics, diagrams, illustrations, typography, vector graphics, and endless combinations of them all.
While the design of deliverables for print differs from digital platforms, the need to create an impact is the same. Making these decisions depends on the target audience. Graphic designers should always ask who they are designing for, what they want, what they need, and which platforms will be the most appealing to them.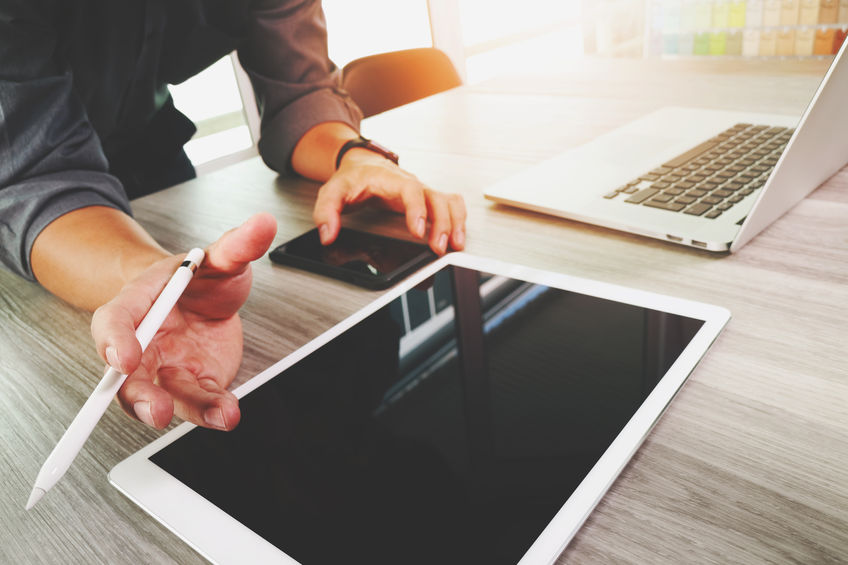 Less is still more…
The success of a design depends on how well it communicates the visual message. Not every single space on the art board needs to be filled with color, shapes, or words. A simple design is much more attractive, and therefore, effective, than one that is over-crowded. Giving a design "space to breath" allows the brand to be visually pleasing to the consumer. By making a design too busy, a brand risks making the packaging or advertisements too complicated for a consumer to understand the full message. It can even be overwhelming.
Subconsciously, most consumers allow themselves only a few seconds to interpret a message in front of them. If it can't be understood quickly, it can have the opposite effect, and they are likely to give up. Therefore, following the "less is more" rule is critical when designing because the bottom line of graphic design is communication. If a brand complicates what they are communicating, then the message will never be read.
The art of white space
White space is a designer's best friend and the golden rule of graphic design. Negative—or white—space is one of the most commonly underutilized and misunderstood aspects of design. The parts of a design that are left blank or "open," either white or some other color, help create an overall image. Graphic designers often use negative space to create shapes as you would any other element. Design guidelines could include the use of white space, especially when applied to a logo. There should always be a consistent amount of white space specified in all media.
In summary
To recap, there are many ways for a graphic designer to take a single idea and a few words to create a message that is inspiring. The tools they use and the format they choose depend on two major elements: the target audience and the branding standards. Identifying the target audience helps determine how the content will be most effectively presented, while solid brand standards maintain consistency and ensure quality control.
Getting the brand's message across doesn't need to be complicated. Sometimes a very simple design can have a huge impact, for example, the Nike "swoosh" that represents quality, value, and longevity. By getting a clear idea of the content that will be portrayed, understanding the target market, and following brand standards, a designer can find success in creating a simple yet powerful visual message that inspires and educates the appropriate audience.