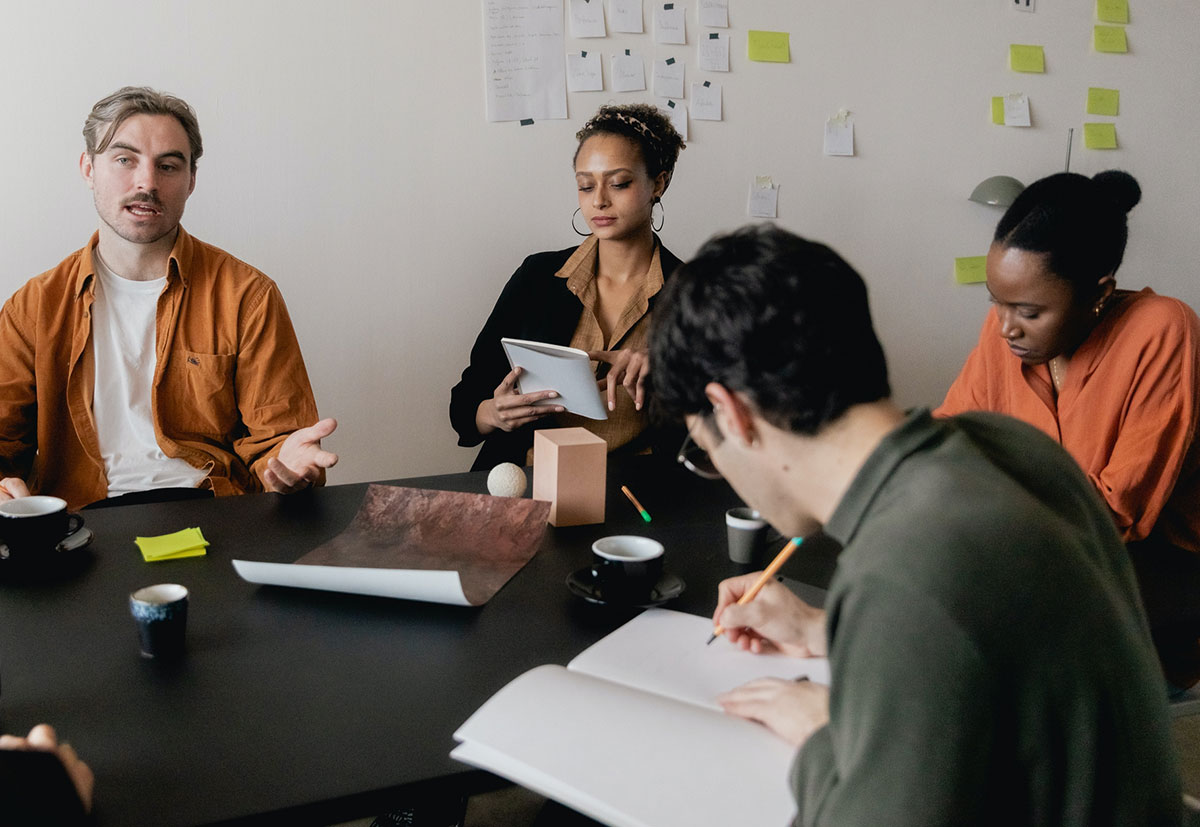 Any project – whether it be a painting, construction of a home, or a business initiative, begins somewhere – a doodle on a napkin, a simple white boarded idea, or even a structured vision. Taking that vision and transforming it into a successful project that lands on time, within budget, and within scope heavily relies on a project manager's (PM) ability to manage a variety of workflows and stakeholders. This can be overwhelming to say the least. Below are 8 ideas that can help a PM plan, execute, and measure a successful project.
Plan
1. Capture a vision
When a project manager receives a new project, their first job is to grasp and understand the industry, vertical, and vision of their client to further understand the "why" behind the "what," and to find ways to effectively add value. The client's vision is their passion, and it's a project manager's duty to fully understand the vision, and to then effectively relay the information to their team members and ensure everyone is on the same page and working toward bringing that vision to life.
2. Communicate with your team
Communication is key to executing successful projects. People make a project come to life. From writers to creative design, your team plays a crucial role in executing successful projects. It's imperative a PM communicates effectively with everyone involved and that everyone understands the task and schedule at hand. If everything is a priority, then nothing is. The key here is that a PM should find effective ways to be transparent and be able to provide key, up-to-date information with their team in real time.
3. Assemble your collaboration tools
Effectively leveraging collaboration tools will help to balance many moving parts while keeping an eye on the end goal. Below are a few tools to help a PM stay organized, accountable, and focused throughout a project. For more details on collaboration tools, see our blog Project Management 101.
Walking Deck: This effective collaboration tool is an easy-to-consume visual of how a PM envisions the project flow. It summarizes all logistical considerations, provides examples of the final delivery format, and serves as a great reference for tracking on the scope for the project.
Action item tracker: A simple yet effective way to track progress – this tool helps ensure deadlines are met by all team members.
Weekly status reports: This concise, easy-to-understand table effectively communicates the status of all deliverables relating to a project to the entire team.
Meeting notes: These enable the PM to capture even the smallest details, share resulting action items, and serve as a record of what was agreed upon or discussed throughout the project.
Execute
4. Be adaptable and flexible
There isn't a one size fits all approach to every project. Each project is unique, and priorities may shift, deliverable format might pivot, and strategy may change. It's the PM's role to adapt, adjust, and communicate the changes to all stakeholders according to client and project needs. They should aim to stay two steps ahead, mitigate risk, and have a clear process to follow when a change occurs.
5. Lean on your team
Complex projects include many stakeholders. A successful PM needs to know when to consult their teammates in a tactful way – whether it's to bounce ideas off one another, problem solve, or just track on a deliverable. Every team member brings a unique set of skills and talents to the team, and when a PM can effectively leverage the skills of the team, the sky is the limit! Collaboration is key, and two heads are always better than one.
6. Managing the daily grind
To effectively execute any project, a PM should be well equipped in managing the overall timeline and scope and be able to efficiently track the status of every deliverable. By staying organized, adhering to the project schedule, and maintaining open communication with their team, a PM can more easily provide an on-time delivery, mitigate unforeseen changes to the project, and effectively manage the relationship with the client.
Effective time management: One of the most critical skills a PM should have is the ability to manage time well. By creating and adhering to a project workback schedule, a PM can ensure there is time built in for unexpected changes or pivots within the project and reduce unnecessary stress of upcoming deadlines. This workback schedule enables a PM to stay ahead of the overall project timeline, anticipate any obstacles, and delegate tasks to ensure an overall steady flow of project deadlines even amid project hiccups.
Scope management: In addition to effectively managing time well, a PM also needs to be able to understand their project's scope – both what is included and what is not. By understanding and adhering to the project scope, a PM can set clear expectations with their team, balance client feedback, and ultimately deliver a project within budget. This comprehensive understanding enables a PM to effectively set and communicate expectations both to their team and their client to deliver a fantastic end result.
Tracking deliverable status: Not only does a PM need to adhere to the overall project timeline and scope, but they also need to be able to effectively manage the status of every unique deliverable and action item within the project. By utilizing a project management tool, such as Monday.com, a PM can efficiently track on all the details of their project, any action items resulting from project meetings, and follow up where needed with their client or team. These tools allow a PM to have a quick point of reference for the overall project's status and provide the information required to easily send status reports to the client as needed.
Measure
7. Assessing client feedback
The goal of every PM is to satisfy their clients and make them look good. By effectively and proactively communicating through email, sending status reports, attending weekly project syncs, and adhering to consistent review cycles, a PM can easily capture client feedback and drive for success. Communicating client feedback to all internal project stakeholders enables a team to make pivots to upcoming deliverables as needed in addition to understanding what went well and how to improve for the next deliverable and project.
8. Evaluate project performance
Once a project is complete, it's always beneficial to hold post-mortem meetings with the internal team. This enables the project manager to look back and talk through what went well, identify key learnings, and map out a strategy to apply those learnings to future projects.
Every PM has a unique ability to strategize, plan, organize, and ultimately execute to bring a client's vision to life. Implementing these ideas can help a PM manage a variety of workflows and project goals while establishing a positive relationship with internal and external stakeholders. Visit our website to learn how Team Odigo can bring your vision to life.