Pricing your solution to sell through a partner channel is one of the most challenging tasks facing business development teams. Unfortunately, there are so many variables in a solid partner channel sales motion that there is no simple formula. It's not as easy as saying—take your costs and add 30% or be sure the indirect (to-partner) price is 3% less than the direct (to-customer) street price.
Different types of partners will bundle your solution in different ways. Some partners will require discounts to engage in their partner network. Some will request price breaks for multi-vendor solutions and multi-year licenses. If you are going to offer sales promotions or incentive programs, you may need to build more margin into your pricing strategy. Some partners require back-end credits and rebates, but if you want to level the playing field across the partner channel, you don't want your partners to apply their incentives to their prices and cannibalize the market. Some partners will request different price points for deal registration programs or demos. Each variable requires its own negotiation and discussion. So it is difficult to provide one-size-fits-all guidance.
But, there are a few cornerstone concepts to consider when developing your pricing strategy, including the value your solution provides to both the end user and the partner reseller, the partner propensity to add their solutions or services into the bundle, and the potential subscription-based service model that facilitates a long-term relationship with the customer, and therefore more opportunity for upsell and cross-sell motions.
Value-based pricing
Value-based pricing is an often misunderstood concept, but it is extremely important in a highly competitive partner channel—you don't want to underprice your solution and leave money on the table. But you also don't want to overprice your solution and lose to a competitor. And sometimes, customers will select the higher-priced solution because they perceive it to be better quality or value because it is more expensive. But often, partners will select the lower-priced solution to gain more margin and pitch their services as the value-added offering.
Setting your price on the perceived value to the customer is easy when you are a single entity evaluating competitive products or services and can research similar solutions being marketed to your target customer segment. It becomes more difficult when there are multiple partners, services, solutions, or customer segments involved. You can certainly conduct thorough market research to evaluate your competitor's features, benefits, and price points. You can conduct surveys with your target market to learn what they value the most and how much they are willing to spend in exchange for that perceived value.
Ultimately, you have to sell your customers and partners on your unique, value-added differentiator. Why is your solution better than your competitor's solution? What features or benefits set your solution apart? Which offerings make your solution more compelling in the market? Marketing is priceless in the partner channel. Be sure you—and your partners—can articulate what makes your solution unique, and what makes it valuable to customers.
Partners probably won't tell you your competitor's pricing strategy, but they might share some indicators about whether you are too high/low for their packaged solution offering. Be sure to establish an open line of communication with your partner and request feedback on your price points. Participate in partner advisory meetings or meet with your partner account manager regularly to gain insight into market dynamics. If you do not have an account manager, plug into partner discussion boards or forums to see what you can glean from others who are targeting your same customer audience with different solutions.
Services add-on
Adding services to a partner solution is a sure way for partners to drive revenue. And, since services often have low overhead costs, the opportunity for partners to add services on top of your solution is quite compelling. In fact, sometimes the joint value proposition to customers is so compelling that partners are eager to bundle your solution with theirs because it significantly increases their sales opportunities. In these cases, the margin and incentives you offer to partners is less, because the partner is making their revenue by selling their services, and just need to align with your solution to accelerate the sale. In a case like this, a 1–3% savings over the direct-to-customer price might be enough to enable partners to prepare bundled offerings and pitch your solution.

Of course, in a competitive marketplace, the exact percentage may change, but the principle remains the same. Your solutions and services are better when packaged together, providing more revenue opportunities to both parties, so the partnership requires less financial investment and more relational investment to pitch the joint offerings to the customer.
Subscription-based selling
Speaking of services, selling services through a subscription-based model provides more opportunity to increase revenue over the long term for both parties. And converting traditional product-based transactional sales into a subscription-based model helps you gain long-term, loyal customers who keep coming back for more.
This is easy to understand in the technology industry. For the sake of ease, let's use round numbers and say a piece of software used to cost $300, but now it costs $10 per month. It may be difficult to incentivize your traditional, transactional sales team to sell a $10 per month service vs. a $300 product, because their percentage of the sale seems to be less in the short term. But over the long term, the subscription adds up to a significantly higher-value sale—for you, your partners, and your sellers—plus, a subscription model provides a continuous touchpoint with the customer, which allows you to build a trusted relationship and offer upsell and cross-sell opportunities to continuously add additional features, benefits, and services on top of the base subscription.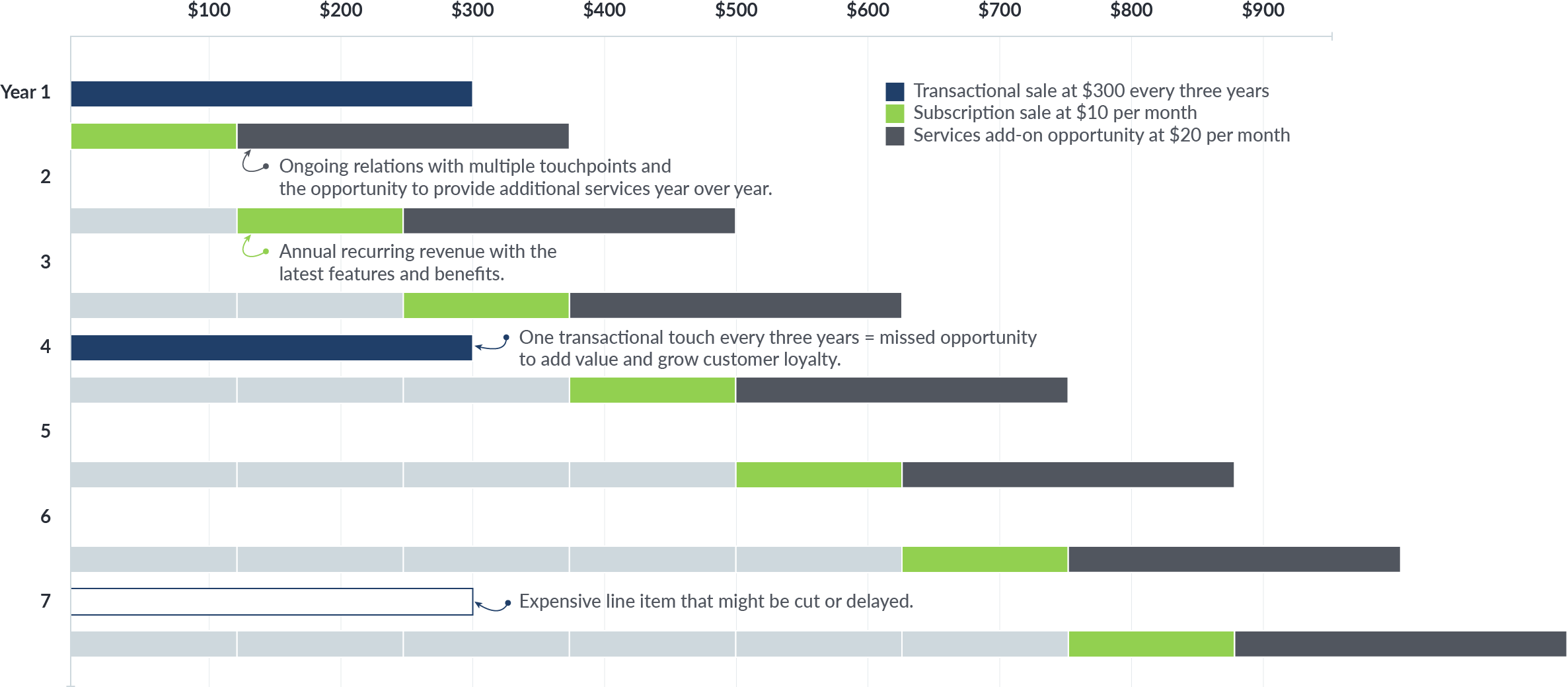 Subscription models aren't just for software though. Think about the subscription models popping up all over your social media feeds … Dollar Shave Club, for example. You think you're just having fresh razors delivered to your door every month. But suddenly … look at all those ... Now you're ordering tooth brushes and travel kits with a single mouse click. It's so easy!
In fact, partner channels are not just for the tech industry. Think about your local landscaper who partners with the local plant nursery for a discount on retail prices for large jobs, and then refers all their clients back to the nursery for more gardening needs. What about the general contractor who has negotiated a price discount with the local lumber yard, and then uses that lumber yard exclusively for all future development projects? Partner relationships take many forms—some are referral businesses, some are strategic alliances, and some are tightly integrated business models that depend on one another's solutions and services to successfully serve customers. It's hard for Airbnb to thrive without any homeowners listing their homes, for example. From tech to the trades, finding a way to convert a transactional sale to a service-based model at the right price point will pay dividends in your future.