There is both reward and risk in marketing through a partner channel.
The reward is that you can disseminate your message at scale to potentially thousands, if not tens of thousands, of potential customers simultaneously through multiple partners and their marketing platforms. The risk is that you lack complete control of the messaging, and if your partners share the wrong message, it is shared with potentially thousands, if not tens of thousands, of potential customers simultaneously though multiple partners and their marketing platforms. You see where I'm going here.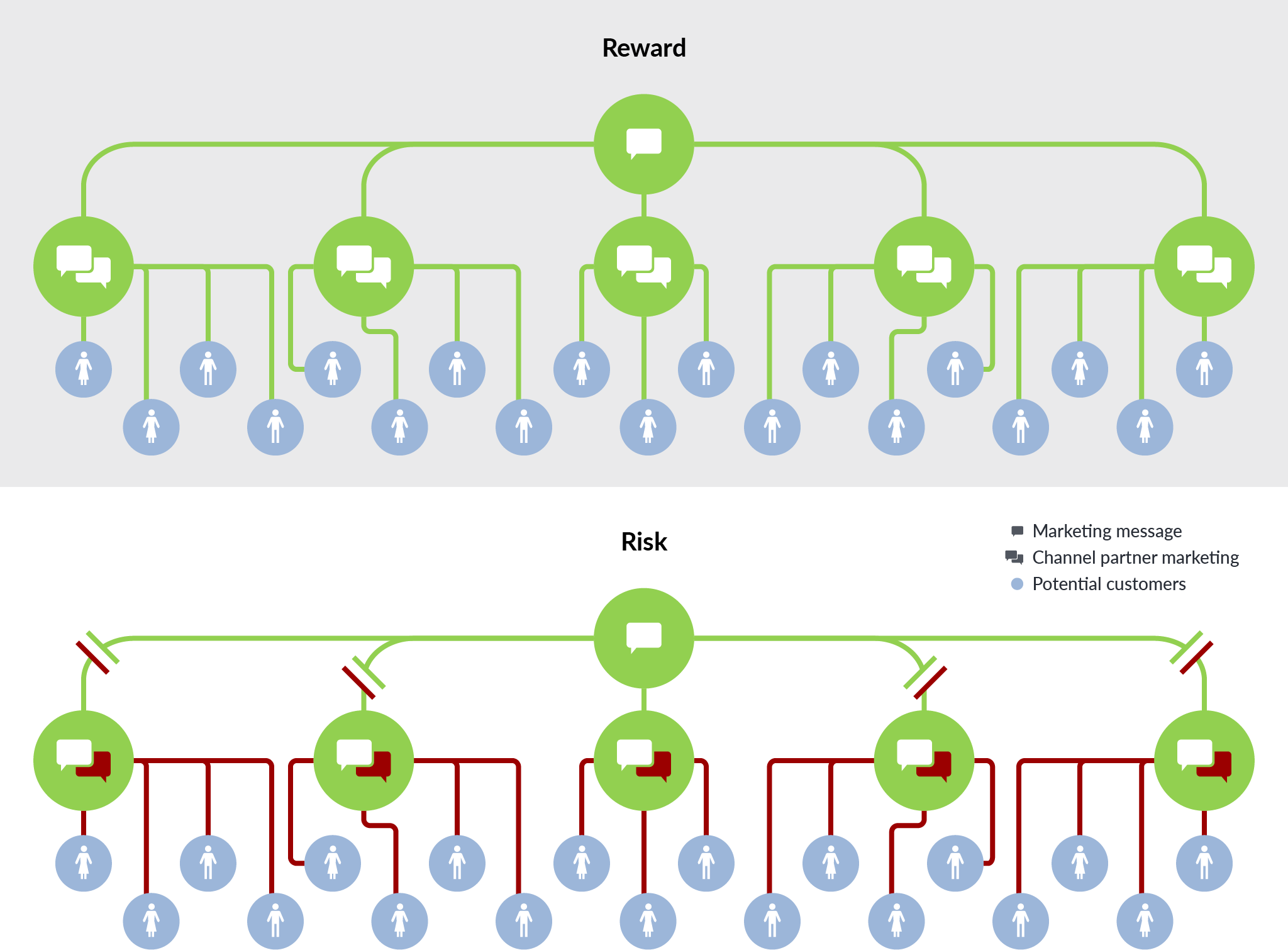 Regardless of whether you are a large corporation with a well-established brand or a small business just starting out, your identity and messaging are paramount to establishing and maintaining your brand—which ultimately builds trust, respect, and loyalty with your target audience. That is why sharing your logo and solution tagline with your partner's marketing department is not enough to launch a co-marketing campaign. (The fact that I had to write that last sentence is why this blog needs to happen.)
Develop a joint value proposition
Hopefully, you already have a clearly articulated value proposition of your own. Not a list of features and benefits. Not a fancy tagline. Not a technical demo video. But a short, succinct elevator pitch that you could give me in the time it takes to travel from the lobby to my exit floor that both piques my interest and leaves me desiring to learn more about how your solution could solve my business pains. I mean three sentences. Max. What is the value of your solution to me, as an end customer, that is compelling enough to make me look you up when I get to my desk?
Then, once you have your own value proposition locked, what is the joint value proposition that you and your partner (not your entire partner channel, but each partner individually) will deliver to customers that is unique and differentiating. In other words, why should a customer choose to go with your solution bundled with your partner's offering, instead of just purchasing from you directly? Or from your partner directly? Or from your partner with your competitor's solution attached? Why did you choose to go to market with this partner in particular, and how is your joint solution the best option for your target customer? This is the message that needs to be clearly articulated in your marketing messages and disseminated across your partners' marketing channels.
Create co-branded marketing content
Again, I need to be clear … co-branded marketing materials are not created by simply slapping your logo on your partner's collateral. Creating impactful co-branded marketing content requires a collaborative effort with your partner's marketing team to expand upon the joint value proposition. Add features and benefits from both solutions. Share customer success stories from both organizations. Use your co-marketing content to show the strength of your partnership. Illustrate how your solution is better when combined with your partner's offerings than when it stands alone.
Whenever possible, use stats or quotes to demonstrate how your solution is better with your partner's offerings than your competitor's solutions are with your partner's offerings. This can be tricky to pass by your partner's marketing team if they are partners with your competitors as well, so you may not be able to provide direct competitive statements, but you can leverage customer quotes to point out that they evaluated "several other" solutions and determined that your combination was best for them for specific reasons, for example.
While your partner sellers are busy ramping up on the features and benefits of your solution offering, and perhaps even preparing joint proof-of-concepts, your partner marketing teams will want to demonstrate the powerful shared solution offering to potential customers to generate leads. Whether the demo is a short video that can be shared on social media, or a try-before-you-buy application experience that can be quickly downloaded, it's important to make this content available to your partner marketing teams. This will help to ensure that nobody mistakenly misrepresents your solution, as you will control the development of this content and simply share the link for inclusion in the co-marketing campaigns.
Show your partners how to use the co-branded content
Regardless of which content you develop, or how it is delivered to the end customer, be sure to provide your partners with as much guidance as possible. In fact, each time you produce a piece of to-customer content to be delivered through your partner channel, you should also produce a piece of to-partner content that describes HOW the to-customer content should be delivered and includes a short list of or link to frequently asked questions (FAQs) to help partners address customer questions. This helps partners deliver co-marketing content that is on message and on brand.
Spend a little extra time focusing on your joint value prop and co-branded messaging collateral up front, so that you can minimize the risk and maximize the reward of co-marketing with your partners!