(And by "dance partner" we mean "customer!")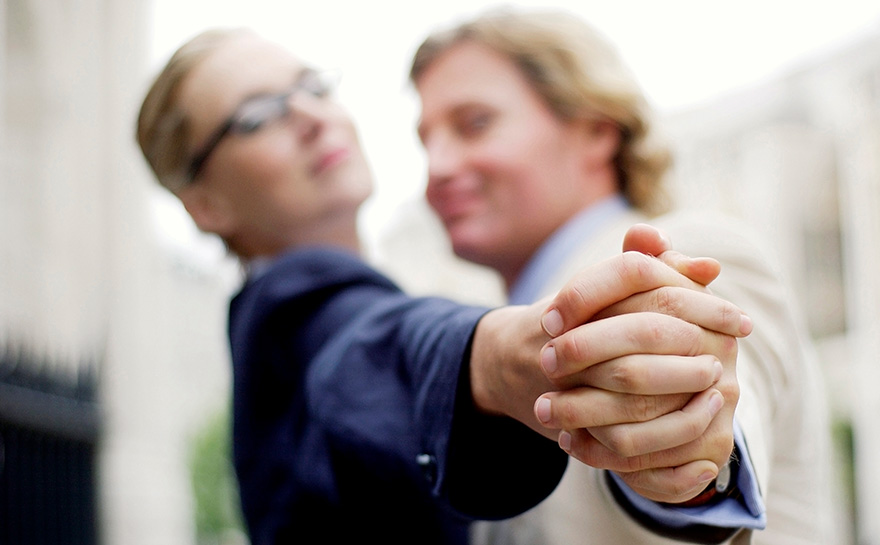 For marketers, that's the million-dollar question. Today's consumers want personalized content delivered to them on their schedule—in fact, 80% of consumers are more likely to make a purchase when brands offer personalized experiences. (Epsilon) Modern consumers want to feel catered to, and they respond best to content that's been cherry-picked just for them. Clearly, in today's market, a positive customer experience reigns supreme. But how exactly do you connect and engage with your target audience?
Marketing is a dance
We're glad you asked. It turns out there's an art to striking an emotional chord with potential customers. Like a dance, the relationship between marketer and consumer is a highly orchestrated, multi-touch, emotionally engaging affair. It only works if both parties are on equal footing, each propelling the other forward swiftly through the air. To achieve this kind of symbiotic balance with clients, one must first understand the consumer's desires, vulnerabilities, what keeps them up at night. One of the most effective methods for reaching a genuine emotional connection with customers is to create customer personas. Specifically, customer personas serve as examples of your target customer and help to facilitate a richer understanding of your customers' needs and motives.
Dance cards fill up fast
Your competitors are vying for your customer's attention, and you only have one chance to make a first impression. So be sure you know exactly how to reach your target customer—the first time. That's where customer personas come in. Dreaming up specific types of customer personas may sound challenging (and maybe even like a waste of valuable time), but we promise it's worth the effort—71% of companies that exceed revenue and lead goals have documented personas. (Boardview) Again, it's all about the dance. In this role, you have an opportunity to intimately study your dance partner, to establish a steady rhythm. Once you can empathize with your target customer, you'll be well on your way to forging a strong relationship that will last for years to come. Among the diverse population of potential customers, pick a specific archetype of customer to focus on—let's say your target demographic is millennial women. Figure out what their specific needs are, what they want from the world but aren't getting. 73% of millennials are willing to pay more for products that practice sustainability—how does your brand address that call to action? (Melanie Curtin) The more you research and delve into what makes your target demographic click, the more likely you are to develop a devoted, ever-growing clientele. And the more specific your personas are, the better. Fleshed out properly, customer personas are a powerful tool for connecting with customers on a complex emotional level.
Win the last dance
Be sure your customers save the last dance for you by capturing their attention, captivating them with your messaging, and compelling them to learn more. Some specific things to pay attention to are:
What verbiage do you use when promoting your brand and speaking to customers? Is your tone accessible and easygoing, or is your message buried in industry jargon?
What are your customers' main pain points, and how does your brand help solve them?
What do you offer that your customers can't get from another company?
Once you can fully empathize with your audience, you can unlock new levels of communication and approach every interaction from an enlightened perspective.
You can never be too informed about your customers. The rhythm of consumer desires is constantly in flux, but you'll be rewarded for putting time and resources into analyzing and understanding your audience. Any research you gather will strengthen all creative areas of your company, from product creation to business development. And, sooner rather than later, you'll see a return on your investment that inevitably follows putting the customer first. There's always a new dance craze, so don't sit down for too long. And if you ever stumble, give us a call. We'll have you back up and on your feet in no time.