We never wrote a business plan that said, "Land on the Inc. 5000 list of fastest-growing private companies in America." But here we are.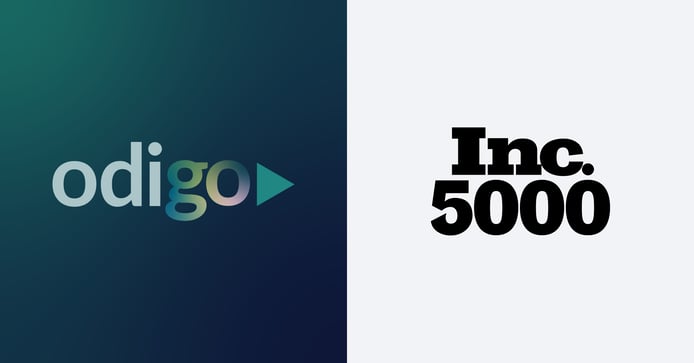 In fact, our beginning was much more humble and much less impressive …
Identify your non-negotiable core values
The truth is, we didn't come from a long line of risk takers or entrepreneurs. We didn't even set out to build a business. We just had a few core values we weren't willing to compromise. For example, we wanted to raise our children and be able to volunteer in their classrooms and coach their sports teams. We also wanted to raise them on Whidbey Island, and while it's an idyllic place to raise a family, the job market is sparse at best. Fortunately, we found ourselves employed by a marketing communications firm with clients in Silicon Valley and partners around the world.
We had no reason to ever leave that company except that in 2005, when our son was born, working from home wasn't really a thing. It was technically possible—we had internet and could VPN in to on-premises servers. We knew we could be more productive with uninterrupted time at home than with water cooler conversations in the office. But our managers weren't quite ready for that shift … they liked the idea of team meetings and in-person collaboration. And since our office was right next door to a childcare center, it seemed ideal (to them) that our son could grow up there, and we could pop in to visit him on coffee breaks and during lunch. That, however, was not the vision we had for our family, so we pioneered a work-from-home scenario that required shifting to a contract-based model.
And commit to them
Let me be very clear. Switching to a contract-based model with a new baby and a mortgage, while determined to live on an island 15 years ago was terrifying. It was also the only way to build the family dynamic we wanted and keep the jobs we needed.
Over the next 10 years, there would be job offers from global enterprises that required us to either move off the island or commute every day and spend hours away from our family. There were even hard times during the great recession, when projects were scarce and those job offers seemed like the necessary means to an end. But they weren't for us. We decided the time spent with our children was non-negotiable, and so we turned down jobs that could have led to lucrative career paths, because we wanted to raise our own children and live on an island. Full stop.
We realize we wanted to have our cake and eat it too. But that has never stopped us. It also didn't take us long to realize that if we were going to work in this gig economy as contractors, we were going to need to build relationships with clients, and likely we would need to manage our own contracts to fully optimize our time and effort spent on the work half of our work/life balance equation. But building a business felt like the antithesis of spending time with our young children. So, we didn't. We kept working for other agencies, taking calls with global clients from our living room, and sending emails from the sidelines of a soccer field.
We often dreamed of branching out on our own and marketing our own services, but the market is competitive and the recession was real. So instead, we dreamed. We wrote business plans from the plastic table at the community swimming pool while our kids practiced all their dives. We read business books by flashlight while taking our kids camping. We designed pitch decks while our parents and siblings entertained our children. We literally made some of our most significant business decisions while driving in a van down the California coast.
We were master jugglers. And it worked for us. We were surviving, but not thriving. We were sustaining, but not getting ahead. We knew we had the skills to grow our own business—we just hesitated to try to grow a business and a family at the same time.
Hire team members with shared values
Then, one day, five short years ago, we decided it was time to grow. Our kids were old enough to entertain themselves and had already learned to whisper quietly when Mom or Dad was on a call. We identified a handful of clients at global enterprises in the technology industry, and found several qualified friends and acquaintances looking for work. The beauty of growing within your immediate network is that you already know your team members share your core values. Our first hires were people who wanted to live on Whidbey Island, prioritized family time over climbing a corporate ladder, and were deeply committed to our clients' successes. This quickly became our third core value—make our clients look good … at all times.
In every client engagement—from project management to content development and event coordination—we strive to make our clients successful. As a team, we work hard to meet and exceed client expectations, and we do it without ego. The sooner you learn not to be emotionally attached to your project, the better you are able to accept critiques to capture your client's vision and deliver an excellent project. While it may be hard to do, we do it well. We flex, adjust, and adapt until the project, program, or deliverable is *exactly* what the client envisioned. It's a fluid and iterative process every time. So, ensuring that team members are a good personality fit for the team, have an extremely high bar for quality and client satisfaction, are willing to go the extra mile when necessary—and feel supported at all levels of the organization—makes for excellent client experiences with The Odigo Group. Which, in turn wins us recurring and referral business year after year.
And commit to them
As an executive team, we work hard to ensure that our team members feel valued and respected, even when a project or client might be different than anticipated. We believe team members give their all because they receive opportunities for balance in return—things like unlimited PTO, team engagements that enable redundancy so they can take time to attend to personal issues without negatively impacting a project, bonuses, and team culture events like happy hours, lunches, and spa days. Our executive team has an open-door policy so any team member can chat about anything at any time, and we've also structured the organization with team leads and mentors, so everyone has someone to turn to for support. Our team is small enough that we can make a personal connection with each team member and build relationships with every one of them.
We don't strive to be a 100-person staff augmentation firm. We don't aim to grow to monopolize the market. We prioritize depth in our relationships which translates to depth in client engagements and world-class projects and programs. Having team members who share that vision is essential. It keeps our team members engaged, our clients happy, and our business growing by referrals at hyper-speed. (And by "hyper-speed," I mean an average of 504.26% revenue growth over the past three years, growing from 5 team members to 25 in just five years.)
Learn to be innovative, flexible, and agile for clients
Sometimes, referrals come in faster than you think you can catch them, so you have to expand your network to continue recruiting. Sometimes, clients want something you don't deliver … yet. So, you have to grow a partner network and find a way to keep that client relationship while partnering or outsourcing certain services. Sometimes, you get so many requests that it only makes sense to grow that line of business in-house, so you hire more resources and launch a new business. Growing a business is messy. And sometimes, what you end up growing isn't what you thought you planted.
And commit to them
When COVID-19 cancelled an entire year of event contracts, we were concerned our business would take a financial hit. Fortunately, our clients came back to us with their previous event budgets and asked: "How can we spend this on digital marketing campaigns for our partners?" So, we rapidly scaled our service offerings, spun up new package pricing, and grew a small line of business into a larger line of business—all from our kitchen counter because the office (with screens and whiteboards) was closed. So, we stretched out the butcher paper, found some markers, rolled up our sleeves, and launched a new business. In hyper-time. Because if you do not evolve, you will become extinct.
Grow a global business from anywhere
When hyper-time collides with island-time, you know you're in for a wild ride. Like I said earlier, our team is deeply committed to client success, quality deliverables, and seamless execution. We're also deeply committed to work/life balance, family priorities, diverse lifestyles, and fun. These were (and still are) the values that guided us past convenient opportunity and apparent career advancement at times when it seemed like the illogical choice. So, growing, innovating, and evolving in real time is no small challenge. But if our team, grown from a living room on a remote island in the Pacific Northwest, can find ourselves on the Inc. 5000 list of fastest-growing companies in America, yours can too—no matter where life takes you.