Apps have exploded our mobile, digital marketplace with categories, including games, business, education, lifestyle, and entertainment. How do you differentiate your great idea from the 2,506,180 active apps available in Apple's App Store? Welcome to Go-to-Market (GTM) 101!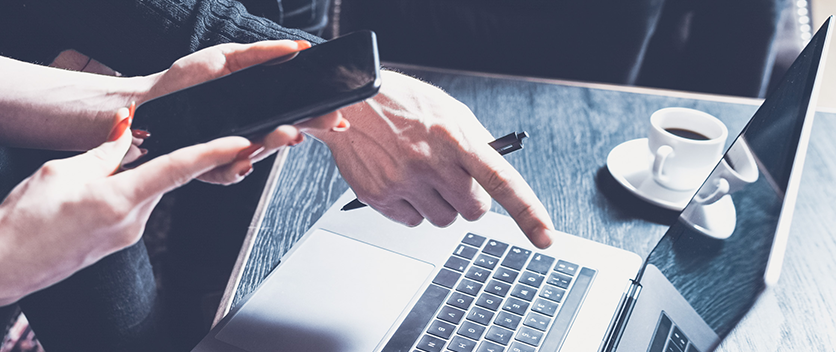 How do you get your solution market-ready?
Here are the 10 key aspects of developing your solution's marketing collateral into market-ready assets to sell your solution:
Define your target audience. To effectively compete with other companies, businesses (particularly small businesses) must focus marketing dollars on very specific markets. The purpose of specifying a target audience is not to exclude those who don't fit into your benchmarks; rather, it generates more effective and efficient marketing to those who do fall within your specified criteria. Focus on identifying the demographics and psychographics of your target—these include age, geography, gender, income, education, occupation, ethnic background, values, hobbies, lifestyles, and behaviors. How can you reach this target with your solution information? For example, does the age/gender/education/behaviors align with someone who uses Bing or Google to answer their random, everyday questions? Or does your target audience gather relevant information from the newspaper each day? Defining your target market not only allows you to connect features to your target market, but it paves the way to reaching your market as well.
Craft your value proposition. This has to be uniquely differentiated and easy and quick to understand. What problem does your solution solve? How do your customers benefit from your solution? What are you offering that is better than everyone else? Today's market requires you to get your message out there FAST and effectively. Think about your countless hours scrolling through LinkedIn and Facebook. Are you reading every word of every post? No way! You're skimming through until something catches your attention or directly relates to you before you'll read it in its entirety. Your value proposition needs to be what catches people as they skim—they need to recognize the benefit(s) to them and want to read more about it.
Identify unique features and benefits. The hard attributes offered by your campaign/solution undoubtedly need to be marketed, but the real magic is spinning these hard attributes into soft benefits that address company-wide pain points or challenges. Your campaign launch should have and focus on key benefits to offer companies—improved efficiency, more efficient spending, lower costs or improved cost savings, etc., and these key benefits are derived from the attributes of your solution.
Articulate your competitive strengths. It is important to recognize competition—you should understand their target market, value propositions, and features and benefits. Demonstrate how your solution out-competes their solution. This is often done with tables and stats, but it is incredibly important to include customer testimonials. With the dependence on social media, consumers rely heavily on word of mouth or affirmed solutions; if someone they know used and benefited from a solution or product they are far more likely to use it as well. Utilize as many social medias to share happy user reviews or videos, and, in turn, generate social media trust. This, in conjunction with explicitly sharing how you out-feature or out-benefit competitors, will create solid GTM differentiators above and beyond your competition.
Create processes and expectations. Establishing the inputs, outputs, and measurable results for your campaign is crucial to be Go-to-Market ready and generate sales … outline your sales process, pipeline, stakeholders, systems and tool, and roles and responsibilities. Strive to create organized, transparent, and consistent processes throughout your marketing materials for a productive and consistent campaign.
Develop your messaging and positioning statement. Align your campaign with a positioning statement unique to your business and solution. Each employee should reference specific documents to verify the target customer, product/solution name, product/solution category, primary benefit(s), and differentiating points of the solution. Consistency within your campaign is key.
Create the deliverables you need to tell your story—from print to digital, email, and events. Although you're narrowing your target market, you can diversify how you reach them. Creating consistent yet effective deliverables in print and digital form, as well was events, allows you to broaden your reach.
Launch an impactful demand generation campaign. Create a comprehensive plan collaborating with sales and marketing to develop relationships with prospects to learn more about your solution's offerings and benefits provided. Strategies vary including offering free/promotional items (to build trust and loyalty), utilizing Lookalike Audiences on Facebook, creating webinars, and providing continual content creation.
Train your sales team. Transform your solution and get your business GTM-ready by establishing comprehensive, ongoing training of your sales team to include pre-training, training, and post-training. Pre-training requires you to do your homework … align the training materials to your business strategy and goals, customer needs, and business culture. Effective training requires an established process with relevant, high-yield, applicable content. We've all been in a class or training where the knowledge is simply transferred, tested, regurgitated, and forgotten. Develop your session to engage the learner and provide facilitation of actionable content.
Follow up on leads to qualify your pipeline. Stop throwing darts in the dark and implement a consistent, effective qualification process for your leads; you will eliminate wasted time chasing bad deals, miss fewer opportunities, recognize how to sell to each lead, and close more deals. A successful qualifying process can be measured by sales representatives' productivity, customer success, length of closing cycle, and forecasting success.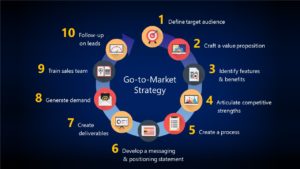 GTM strategy steps
Getting your campaign or product launch GTM-ready is challenging but ABSOLUTELY NECESSARY. As the above figure demonstrates, first develop your comprehensive strategies and tactics (steps 1-6 above). Next, develop effective collateral to serve as communications pieces to land your strategy (steps 7 and 8). Often organizations hire consultants with extensive experience and expertise developing successful GTM materials to lead the path organizing and driving the creation of such collateral. Finally, ensure your campaign and/or launch is successful and sustainable with consistent training and more effective sales cycles (steps 9 and 10). Your campaign deserves the best, most effective marketing materials to gain traction in such a vastly populated market. Implement Go-to-Market 101 tactics because your solution deserves to succeed.
Next step? Learn how to stand out in a competitive marketplace