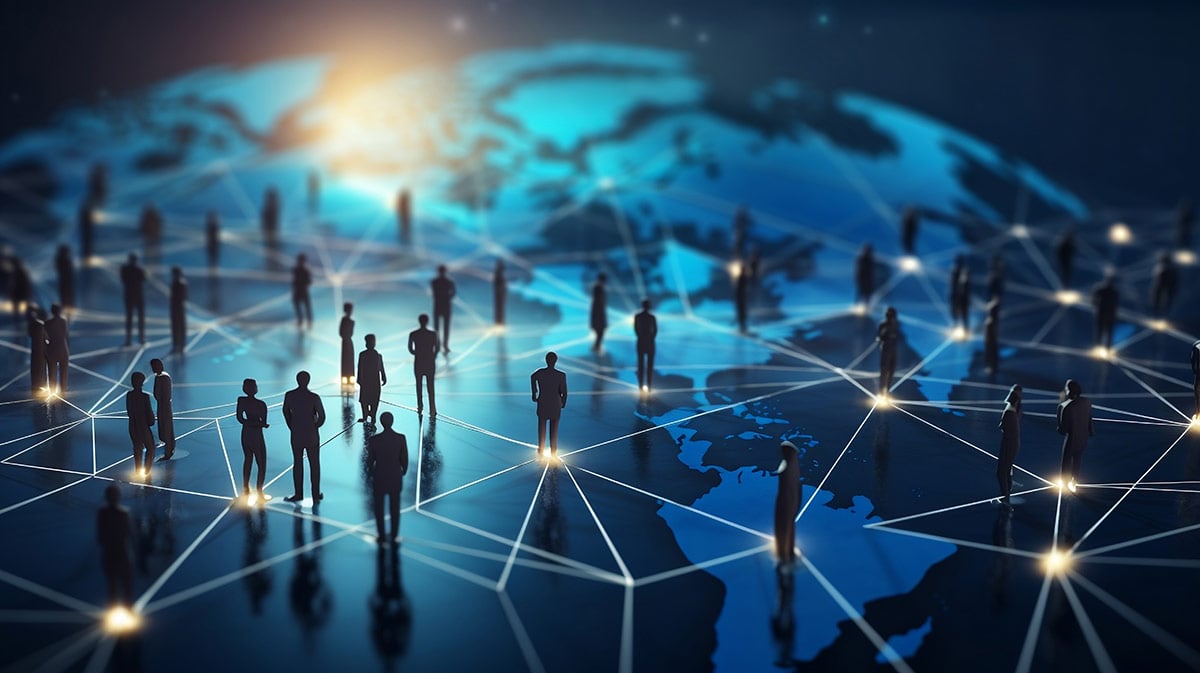 Navigating partner ecosystems takes work. But while it can be exhausting to wade through the heaps of resources, systems, requirements, and benefits of a large network, the upsides are huge. Amid unprecedented digital transformation, a global pandemic, economic shifts, and the advent of AI, major hyperscalers like Microsoft, AWS, and Google continue to play a critical role in creating the economic models and marketplaces that sustain partners across the globe. These technology giants are shaping the future of cloud computing, and it's clear that the ecosystems they are nurturing are not going away anytime soon. They continue to invest billions of dollars in cutting-edge technologies and customer acquisition. And the biggest driver of their profitability, influence, and innovation? Partners like you.
As an independent software vendor, system integrator, reseller, or managed service provider, you have your own goals to reach − whether that's increasing your customer base, integrating with new platforms, expanding your global reach, co-selling, upskilling, entering new markets, or a million other business objectives. For most, the way to reach those goals is by growing your partner channel or strengthening existing partnerships with major hyperscalers. However, you might be stuck asking yourself questions like:
"How do I navigate a vast ecosystem that seemingly changes every quarter?"
"How do I capitalize on new opportunities and programs without exhausting internal resources?"
"What is the best way to utilize my partner benefits and transform my GTM strategy to support sustainable business growth year over year?"
If you're grappling with any of these questions, you're in good company. With 20+ years of experience supporting the Microsoft partner channel and driving successful partner programs, our team has learned a thing or two about how to navigate vast ecosystems and turn the overwhelm into actionable guidance. Our clients turn to us to bring our tried and tested frameworks, tools, relationships, and skilled resources to elevate their co-selling, co-marketing, and co-branding initiatives. Depending on your priorities, we have the ability to both inform and execute your strategy, working as an extension of your team to reach your goals. But rather than just taking our word for it, let's take a closer look at some specific ways we've helped partners create real business value.
1. Maximize partner benefits
Embracing a thriving partner channel opens a world of possibilities and rewards for your business. Yet, for many partners, the labyrinth of systems, processes, programs, and tools needed to harness those advantages can feel daunting. Whether you're a seasoned partner with years of experience or a newcomer to this dynamic landscape, the journey to establish a strong presence within the partner ecosystem can present challenges. While it's perfectly natural to feel overwhelmed, there are a few things you can focus on to help your company become a well-grounded player that both contributes to and benefits from the partner ecosystem.
Before you scale within an ecosystem, you must first learn the system's rules and check off the requirements that will grant you access to greater opportunities and benefits. Some of these requirements may seem basic, but they can easily turn into administrative burdens as you launch more solutions and services into the shared marketplace.
How we create value
Are you getting the credit you deserve for the customer impact you're driving? Opportunities abound when you can hold up past receipts that clearly indicate the cloud revenue and consumption you're generating at your customer's business. Building credibility within an ecosystem is a crucial first step that opens the door to lead-sharing opportunities and field seller engagement. If you feel you are sharing more customer opportunities than you are receiving, you'll probably need to rethink how you show up inside the internal systems that enable co-selling engagements. Visibility is critical to success in an ecosystem teeming with thousands of partners, account managers, and field sellers. We can help you stand out.
Coach and project manage your team to correctly attribute revenue and accurately measure the digital transformation impact you are driving at your customer.
Position your brand and solution(s) well within partner management systems to accelerate co-sell opportunities.

Meet the requirements to co-sell and develop joint value propositions to enhance customer engagements.

Take advantage of the benefits and opportunities available to you within your hyperscaler's partner sales and marketing programs.
2. Get solutions to market faster
Once you've established yourself within the partner ecosystem, it's time to take your joint solutions and integrations to market. You'll want to consider the GTM resources and marketplace options available through the partnership and position your content in a way that takes full advantage of these stages. That means developing deliverables, messaging, and a marketing strategy that effectively shines a light on the joint benefits of your integration. This is your opportunity to establish goals for the partnership and start accelerating the growth of your solution in ways you couldn't alone.
How we create value
At this stage, you're now ready to take your solution to market. Perhaps you've spent months developing a technology skillset that you're interested in packaging and selling that expertise at scale. Or maybe you're ready to introduce a new software application that integrates with popular cloud platforms and systems. Regardless of the type of solution, you've likely spent a significant amount of time constructing this offer that you think has great market potential. But now that you're ready to put your service or product out into the world, you face a new set of challenges…
"How do you start generating interest and building demand to reach more customers?"
"What kinds of co-branded GTM content should you create to build credibility with prospects?"
"How do you emotionally convince people to care about the benefits you're offering?"
If you're asking yourself these kinds of questions, it's time to critically look at your Go-to-Market strategy and master the art of better together storytelling. To stand out in an overly crowded commercial marketplace, you'll need to collaborate with partners and sponsors to build a pipeline of co-branded marketing and sales content. But the trick is not merely producing more content − you'll need to create deliverables that resonate on a deeper psychological level with target audiences. We can help you craft and land that message.
Create professionally written and designed Go-to-Market deliverables that align with different stages of the buyer journey.
Enhance messaging frameworks and tell stronger co-branded stories that resonate with the pains and priorities of your target customer personas.
Optimize marketplace listings for easier discoverability − both by customers and external field sellers.
Standardize on co-branded marketing templates, from two-page solution briefs to pitch decks, case studies, and more.
Build and execute high-performing digital campaigns that tell your "better together" partnership story and accelerate lead generation.
Think outside the box and use mixed media to engage prospects visually, whether that's through the production of short-form videos, animations, demo recordings, webinars, or others.
3. Reach more customers through your partner channel
One of the most valuable benefits of being part of a robust partner ecosystem is the opportunity to discover new ways in which your offering can be combined, positioned, and packaged to reach and benefit new audiences. By strategically aligning your business with other technology partners, you open the door to new markets, industries, and revenue streams. Not only is this a great way to serve and expand your consumer base, but it also lays the groundwork for long-term success.
How we create value
Your partnership is your superpower. And there are a million ways to strengthen and capitalize on those relationships to grow your business strategically. For example, maybe your next initiative is to focus more on how you enable co-selling as a partner. Building powerful sales enablement materials is a great way to articulate how your solutions impact not only end customers but external field sellers too. Make joint selling much easier by incentivizing both internal and external sales teams and offering consolidated guidance on how to keep prospects engaged on a call.
You have many options regarding how you spend your marketing dollars. From strategic enablement materials to co-branded case studies, filmed customer testimonials, visually engaging playbooks, customer journey maps, and more. We can help you execute a number of different strategic initiatives that align to your goals.
Build powerful sales enablement materials that simultaneously drive customer engagement and incentivize external field sales audiences.
Standardize on customer messaging by creating sales scripts, battlecards, and pitch decks that clearly define the joint value you bring in partnership with other organizations or cloud providers.
Publically evangelize customer successes and receive greater recognition within your partner ecosystem by producing case studies and testimonials, both written and filmed.
Reposition your value propositions and marketing pitches for existing products and services to align with your partner's prioritized industries and verticals.
Package up a new line of business by putting together partner playbooks, adoption guides, customer journey maps, and more.
Let us know if we can support you on your next big initiative. The Odigo Group is a dynamic team of strategists, creatives, storytellers, and marketers specializing in partner channel development, co-sell enablement, strategic GTM guidance, and content development for technology organizations across the globe. Companies we've supported in the past range in size and industry, including bigger names like Microsoft, VMware, DocuSign, ServiceNow, Tableau, Ingram Micro Cloud, Sherweb, Thrive Global, airSlate, Jumio, and others. Learn more about our capabilities and approach today.