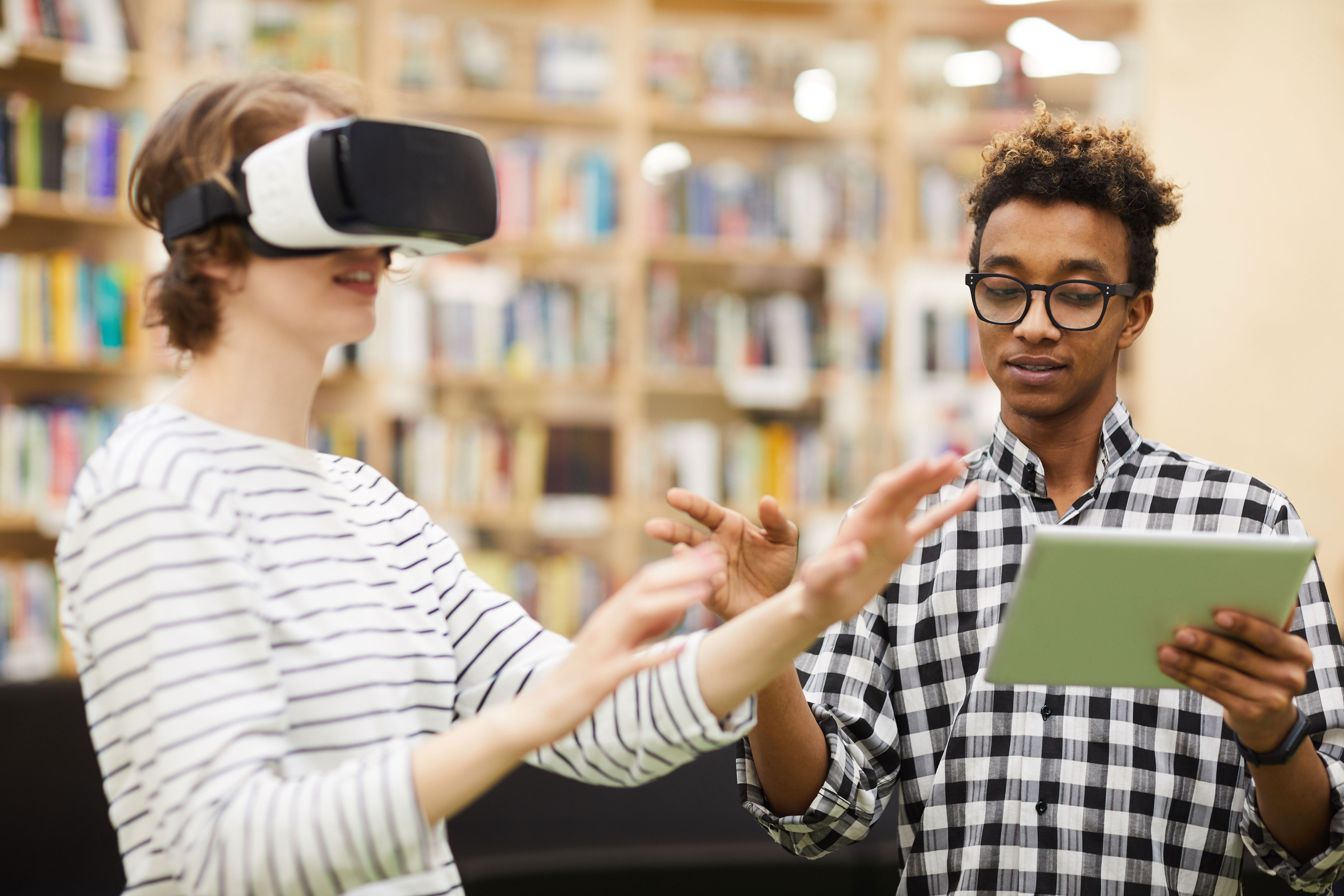 When you imagine the year 2050, what do you see? Is it anything like the virtual reality world of OASIS in Ready Player One? While that may seem far-fetched, we are rapidly approaching a new world of extended reality (XR). From surgery to engineering to military weaponry, immersive tech is already changing how we work and what we create, and its influence is rapidly spreading. College campuses are no exception.
Colleges
are at the forefront of innovation
College campuses that are exploring the use cases of XR technologies like mixed reality (MR), Augmented Reality (AR), or Virtual Reality (VR) are increasing program demand with unprecedented learning opportunities. In fact, educators (especially in the healthcare space) have been able to reduce training times by 30% by introducing mixed reality solutions as part of their curriculum, among many other benefits.
For one education organization, medical students learned twice as fast with mixed reality software. An executive director of innovation shared with Forrester Research, "The visual quality of mixed reality makes it easier to discern anatomical structures, see where they are located, and understand how they relate to each other within the human body. It's so much easier to visualize and comprehend in this 3D, digital way."
As another example, California State University (CSU) introduced AR to multiple fields of study and is empowering students to engage with subjects in new ways using 3D visualization. According to CSU Chief Innovation Officer Michael Berman, PhD, "AR allows for new types of experiences, like visiting a place you've never visited before." He goes on to explain that its possibilities aren't restricted to any field and can be used in many different use cases. XR technologies have expanded beyond simulations for training pilots in STEM into other fields of study. For example, journalism students can use mixed reality tools to report stories with full 360-degree visuals of the situation at hand. Geology majors can design mountains and valleys with the swipe of a finger. Even the world of virtual learning can be improved by increasing the involvement of students and teachers by offering interactive 3D models, live video streaming of labs or procedures, and real-time remote collaboration. As Berman concludes, "The possibilities are endless."
Texas Immersive Institute (TXI) is one other notable academic institution that is taking the XR opportunity to a whole new level. Students, leaders, and business partners are collaborating with TXI to translate elements of daily student life into the AR/VR/MR context, humanizing the technology through intimate designs and experiential elements. From creating interactive AR apps that help new college students explore and design their dorm rooms before they move in, to designing video games that make Disney+ content come to life using 3D visualization to tell each story, these students and partners are driving greater innovation to transform educational experiences.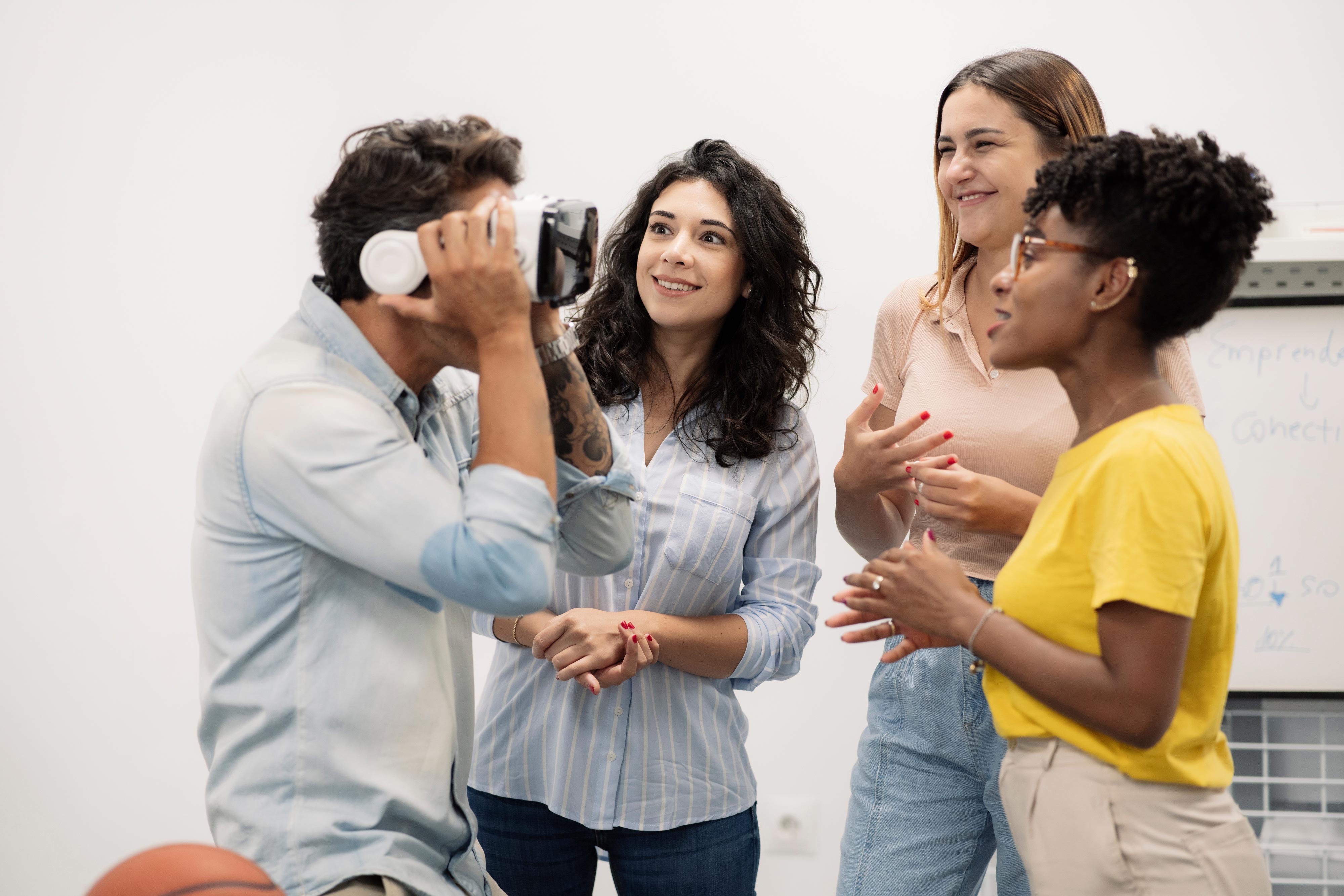 Not all who learn, learn the same way
When the world went virtual thanks to the COVID-19 pandemic, students responded with mixed success. Most online college courses continued to rely on lectures – a mostly auditory method of teaching. The responsibility to absorb the information in lectures rests with the students. However, only about 30% of the student population learns well through auditory teaching. Introducing AR into college lectures could combine auditory, visual, and kinesthetic teaching techniques. Every student could learn based on their personal preferences. And teachers would not need to translate existing curriculums into different mediums. Such technology could be revolutionary – it could change the face of education as we know it.
Academic institutions spur digital transformation with immersive technologies
The educational approaches that worked fifty years ago don't engage today's technology-saturated student. Today, students want to push the boundaries of their education and they have the technology to do so. From wearable devices to strengthen nursing programs to augmented reality that infuses historic 3D models with modern maps to create immersive experiences, universities can improve their offerings and cater to their students' learning preferences. XR has the power to transform the paradigm of learning. Now how can we as a society further support technology adoption and innovation initiatives in schools and universities to better prepare the students of tomorrow?
About the Author: Writing Intern Sadie balances many different aspects in her life between school and work while trying to incorporate her experiences into her workstyle. As one of the younger, more unconventional members of our team, she believes in attempting to represent people from all walks of life in company writing. When Sadie's not working on Odigo social posts or creating blogs, she enjoys spending time with her college roommates, studying for her STEM courses, and indulging in outdoor activities. As of right now, she's building up those muscles working on her climbing skills and has recently taken up running in the mornings.